Here are the Best Tips to Care About Your Vinyl Fence in the Front Yard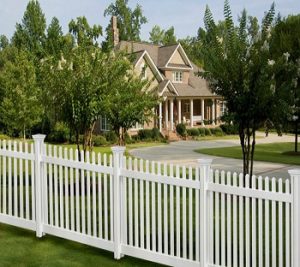 Vinyl Fencing is known to be quite an attractive and cost-effective material for yard fencing. Besides this, vinyl fence requires very less maintenance as it is quite resistant towards water damage and many other common issues.
Moreover, Vinyl is also quite stronger than wood and therefore it is one of the best fencing solution for your home.
With regular care and minimum maintenance, Vinyl fence can easily last for 30 years.
However, it is very important that you consult a good Grapevine fence contractor such as Grapevine TX Fence Pro such that they can take care of your vinyl fence properly.
One such good Grapevine Tx fence company, They have years of experience in the fence industry and therefore they can get your job done in the most efficient way.
So, let us now look at some of the best tips that can help you to take care of your vinyl fence.
Machinery should be avoided near your Fence
Vinyl in general is very durable but it can crack or break if something strikes it. Flying debris and Lawnmowers are some of the common vinyl fence destroyers.
So, it is recommended that you avoid machinery near your vinyl fence. This includes lawnmowers and whackers.
Look out for the Leaning Posts
Vinyl fences are dependent upon the posts which gradually supports the entire structure. Once the posts gets lean due to age or soil erosion, then the entire fence will begin to lean out as well.
In general, they begin to lean near the gates. Also, this part of the fence is the heaviest and it is mostly used.
So, you can get in touch with a fencing expert such that the fence is reinforced before it begins to break and fall.
Fence Climbing vines should be selected Wisely
If vines are planted in a right way, then it can ass charm and allure to your landscape boundary. However, there are often times when the vines are quite heavy and in the process it pulls down the fence completely.
You can prefer flowering vines that are lightweight in design such as clematis or honeysuckle.
Further, consult a fencing contractor about the different vine attachments that will help the vines to grow without damaging your fence.
Also Read : How do I know if my fence needs to be repaired or replaced?
Digging or climbing should not be allowed
The fences made of vinyl are quite susceptible to digging or climbing.
In order to deal with these problems, tent stakes can be placed such that digging is discouraged.
Additionally, make a strict rule about using only household doors or gates to get inside the yard such that the climbing problem is resolved.
Furthermore, keep wooden chairs, piles, buckets and any other climbing aids away from the fence such that the children's are less tempted to climb the fence.
Fence should be Washed Regularly
Vinyl fence should be washed regularly after an interval of time such that it is free from any kind of stains or debris. Further, if stubborn strains are present, then it can be washed using mild dish soap and rag and finally it should be rinsed using a garden hose.
There are two important reason to wash your fence regularly. Firstly, it can help to make it look newer. Secondly, while cleaning the fence, you might be able to find flaws such as cracks which can eventually get repaired before the fence gets compromised.
Final Verdict
If you hire a fencing expert, then it can help to keep your vinyl fence in shape and in the due course help to increase the life span of the fence as well.
Also, vinyl fence can increase the curb appeal of your property and the best part is that it requires very less maintenance.
So, you can trust our fencing experts to help you with vinyl fence installation and repair. You can contact us for all your fencing needs.